Reimagining the Manufacturing Industry After COVID
The COVID-19 pandemic is creating new challenges for the manufacturing industry. Research by the United Nations Conference on Trade and Development (UNCTAD), estimates that the COVID-19 outbreak could cause global Foreign Direct Investment (FDI) to shrink by 5%-15%, due to the downfall in the manufacturing sector. Across the globe, automobile, chemical, electronics, and aircraft manufacturers are facing shutdowns and inaccessibility of raw materials. Meanwhile, in the electronics sector, smartphones and consumer electronics companies have seen a reduction in production operations and postponed the introduction of new products. Though the economy has been hit hard by these changes, there are potential opportunities as well. This blog highlights how we can reimagine the manufacturing industry, post-COVID.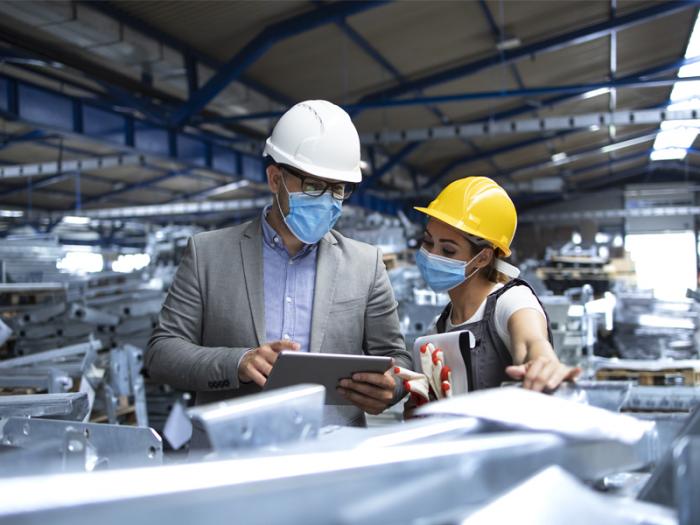 Impact of COVID 19 On the Manufacturing Industry
Manufacturing industries in different countries are at different stages of recovery from COVID. Many of them are still struggling with supply chain disruptions, reduced demand, and workforce challenges due to physical distancing restrictions. Meanwhile, other sectors like consumer goods and health care are ramping up production to respond to the increase in demand for products like medical supplies and paper products.
Many manufacturers and automation companies have retooled to offset the shortage of critical medical supplies needed to combat the coronavirus. In addition, regional governments and agencies are also investing; Ontario has pledged $50 million for businesses to retool their manufacturing operations for COVID-19 equipment, and Next Generation Manufacturing Canada (NGen) granted $50 million funding for manufacturers to produce essential supplies and PPE kits. Major manufacturers such as Labatt, Fiat Chrysler, Canada Goose, and Bosch are among the companies that are producing medical equipment and play a critical role in filling gaps within the supply chain.
As the economy opens and begins to operate within the new normal, the merging of manufacturing and health care technology will create more employment opportunities. According to a survey by a North American staffing firm, 7/10 employers in Canada are planning to rehire laid-off employees once the COVID-19 crisis passes.
How to be a Future Ready Technician?
Everyone needs to be prepared for a new normal as we step into 2021. As a technician, you will be required to adapt and learn new skills to thrive in the changing landscape. While much is still unknown, you can keep a close watch on the trends below:
1. New Technology Adoption
Companies in general were already moving towards more automated facilities. So, coming out of the pandemic, manufacturers are ready to incorporate automation to transform their facilities.  The IRF (International Federation of Robotics) predicts that by 2022, almost 4 million industrial robots are expected to work in factories worldwide. These robots will be integral in automating production to speed up the post-COVID economy. Robots can strengthen employers' efforts, making factories more efficient, without sacrificing health and safety. Thus, it is essential to invest in skills in advanced automation techniques to be ready for post-pandemic job opportunities.
2. Retiring Workforce
The manufacturing workforce is older than the overall labor force of Canada. As these workers retire in the next 10 years, the manufacturing industry is projected to have difficulty filling skilled trades and technical positions. Manufacturers also face a unique challenge in retaining institutional knowledge as the older employees retire. It is a fact that decades of hands-on-experience cannot be replaced overnight. But education and proper training can help to upgrade skill sets and expand professional competency while allowing a technician to perform their job well. Preparing to be a potential replacement to this retiring workforce should be a primary focus in a post covid scenario.
3. Skills Gap
This introduction of new technology has also amplified the 'Skills Gap' or the difference between skills that an employer needs and that the job seeker possesses. The required skill sets are becoming broader and technicians need to work not only with machines, but may need to interact with robots, troubleshoot complex electronic malfunctions, and program automated systems as part of their day-to-day routine.  Alongside technological advances, there will be greater demand for skilled technicians who are cross-trained within different disciplines.
One thing is certain, the way companies operate and work will change after the COVID pandemic subsides. The surge in demand for consumer goods and healthcare supplies has led to an increase in manufacturing jobs for line workers, supervisors, warehouse workers, manufacturing engineers, and quality control specialists. To take advantage of this demand, technicians should seek out ways to broaden their knowledge.
Learn how the technical training certificate programs at George Brown College can help prepare you for changes in the manufacturing sector. For more information on GBCTechTraining Programs, please reach out to 1-888-553-5333 to speak with a Program Consultant.