The Future of PLCs
Almost every building and facility relies on the automation of their mechanical and electrical systems, or the use of PLCs. In fact, PLCs are used across industries and are found in countless applications within factories, labs, and plants. Their use is only going to increase as more complex facilities undergo construction and factory floors expand. You might think that PLCs are an aging technology due to the fact that they've been around for close to 50 years, but innovation is on the horizon. 
In this article, we will discuss the future of PLCs in industrial automation and advancements in the industry. 
New and Improved PLCs
Processors, circuit boards and other components are growing smaller across industries. This trend is making its way to PLCs. Current enhancements include faster processors for improved cycle time, added memory capacity, and new communication features. We can expect to see small PLCs evolve to include many of the features of higher level PLCs, with high-level PLCs becoming smaller and more compact.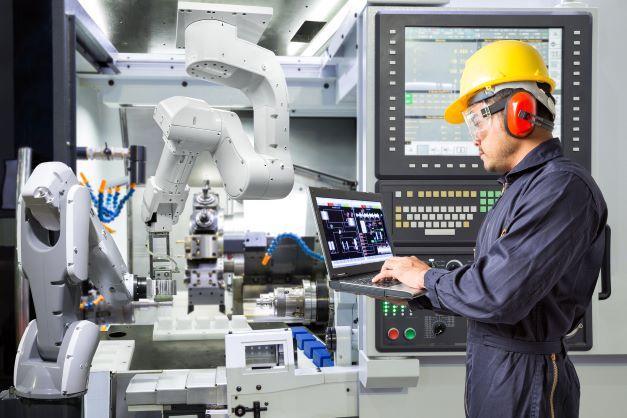 A huge advantage to PLCs is the fact that solid state memory drives are reducing in size, and their costs are declining.. This allows for local data storage and permits the use of a PLC in many applications formerly requiring expensive data acquisition systems. Another example of a feature from the consumer electronics world that's becoming more common is nonvolatile portable memory devices. These offer great benefits to the PLC customer by providing a large amount of additional memory within a small device.
PLCs Merge with PACs
PACs and PLCs will continue to merge overtime, as automation engineers focus more on the evolution of the performance and features of the machines rather than the vocabulary surrounding these devices. Higher-speed processors and more memory will make more advanced features common, such as motion control, vision system integration, and simultaneous support for multiple communication protocols. But the machines will still maintain the simplicity that makes the PLC so attractive to many users.
The growing demand for these systems have challenged designers to build systems that last and can withstand an industrial environment. There could be challenges in the future to maintain a level of quality (connectivity, memory expansion, and processing power improvements required to handle ever more complicated applications) while keeping cost low. With this, PLCs may see an increase in price in the future. 
Increased Communication
Currently, a high-end PLC includes many communication ports to support multiple protocols.
This will change in the future as users demand more standardized options, possibly just Ethernet and wireless, with industrial Bluetooth a possible option. The industry does need a more robust wireless technology with improved range and the preservation of data integrity before we see a large convergence of commercial and industrial wireless communication protocols.
We have seen advancements in this field with Wi-Fi, ZigBee and the rise of Bluetooth, but none have been a solution for plant floor applications. The future will encompass wider adoption of wireless, as it works well for applications like remote terminal units (RTUs) where line-of-sight is available, and also in many less critical monitoring applications where real-time control isn't required.
Dramatic Advancements
The boldest change in the PLC's future will be the integration of enterprise resource planning (ERP) and other higher level computing systems to the factory floor. Controller manufacturers need to consider the user's needs and provide a solution where the PLC is not only controlling the application, but also providing the tools to seamlessly manipulate and present process data to the users who need it.
That's where ERPs fit in. PLCs can't convert data into reports, which is a major detriment to management and their ability to plan or make decisions. For example, a PLC can detect when a machine or piece of equipment needs to be fixed. However, it doesn't store crucial information about specific pieces of equipment, which is needed in order for staff to make decisions on next steps. If an ERP is in the picture, workers then have access to this information which facilitates a more efficient response. The combination of historical data paired with real-time data allows employees to make more informed and efficient decisions on the factor floor. This also means a reduction in operational costs and an increase in performance across the board.
A Bright Future for PLCs
PLCs will continue to evolve, so it's worth looking at new versions of these controllers as the technology becomes more streamlined and effective and continue to be the best option for a variety of industrial automation applications. Evolving features such as wireless capabilities, more compact sizes and flexibility will be its staying power. 
Our Programmable Logic Controller Technician Program provides the  technical skills and knowledge necessary to work with programmable logic control systems. Learn more about how you can apply for PLC training online.
Comments
Submitted by rohan holness (not verified) on Mon, 03/21/2022 - 21:25
how can i enroll to become a PLC trained technician.
Submitted by iris on Thu, 07/07/2022 - 11:58
You can register online at https://www.plctechnician.com/how-to-register or by calling a Program Consultant, toll-free at 1-888-553-5333.