How Do I Become a PLC Programmer?
Starting a new career is a fun and challenging experience that can be incredibly fulfilling. But sometimes, it can be difficult to know what steps you have to take in order to achieve your goals. Gaining entry into a new career can be a job in and of itself. It's essential to have as many resources at your disposal as possible to guide you along the way. 
If you're interested in becoming a PLC programmer, we can help you discover some of the key skills you need to be successful, how to get proper training, and what you should expect from this in-demand profession. 
What Skills Do PLC Programmers Need?
PLC programmers work in a variety of sectors, and within those sectors, different skills and qualifications are required. Take manufacturing, for example. A PLC programmer working within the automotive industry might need to have more in-depth knowledge about industry specific technologies like palletizing systems, automation, and materials that could be dangerous to humans. On the other hand, PLC programmers working as field service technicians might be required to handle more customer service related tasks on top of their other duties relating to repairs, troubleshooting, and installation. 
However, there are certain skills that every PLC programmer needs to have, no matter what path they take. Soft skills, or core skills, that you'll need include analytical thinking, good communication, problem-solving skills and the ability to adapt to changing environments—just to name a few. In terms of technical skills, PLC programmers should be experts in programming, ladder logic, how to troubleshoot PLCs, and specialized technologies relating to PLCs. 
Ladder logic is one of the most common programming languages used by PLC technicians and is integral to designing and implementing PLC functions. It will be essential for installing, maintaining, and troubleshooting any PLC that you work with. Additionally, learning about ancillary  technologies relating to PLCs will be something that happens consistently and is integral to advancing your career. This can include gaining a better understanding of SCADA systems and human-machine interfaces while also developing better dexterity and scientific proficiencies.
This list is by no means extensive, but it gives you an overview of just a few of the things you need to be knowledgeable about if you want to become a PLC technician.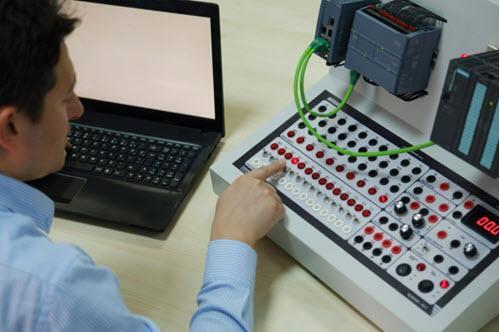 What Are the Educational Requirements?
So now you know the skills you need in order to become a PLC programmer—but how do you get them? Some people choose to obtain a bachelor's degree in electrical engineering or computer science where they learn from a more theory-based approach. When they apply for entry-level positions, they can then receive on-the-job training. Alternatively, vocational training is more hands-on and equips students with real-world experiences, usually in a much shorter time. 
Some people who receive a bachelor or even a master's degree will still apply for vocational training programs after they graduate so that they can receive hands-on experience and upskill. In order to become a PLC programmer, potential employers may require that you  already have hands-on experience with at least one of the more popular PLC control systems, which can be gained through vocational training.Systems  used in these types of programs can include (but are not limited to): Allen-Bradley, Siemens, Omron, Mitsubishi, GE-Fanuc. Each of these control systems, though different, can provide you with invaluable working experience that as you begin your job search.. 
What Does a Typical Career Path Look Like?
Entry level PLC jobs typically involve programmers helping engineers and designers create new programs, or they're asked to assist in improving current programs within a PLC. As an entry-level PLC programmer, you'll apply the hands-on learning gained through course work, writing schematic diagrams, working with automation processes, and collaborating with specialists in the field. 
There is also usually room to grow within a company, so instead of applying for further education, many programmers will look for internal growth opportunities. Because PLC programmers are in such high-demand, there are plenty of job opportunities out there. Companies are always looking for trained PLC programmers, so the first step to achieving your goals in this industry is developing your skills. 
Get PLC Programming Training 
If you're ready to take the next step in life and build the career you've always wanted as a PLC programmer, then you've come to the right place. Our PLC Technician Training program is designed to help students gain real-world PLC programming skills with interactive simulation software. 
If you're interested in learning more about the program we offer, or you're ready to apply, reach out today. One of our Program Consultants will be happy to answer any of your questions and get you started on your way to success. 
Comments
Submitted by Juan Cintron (not verified) on Sun, 10/16/2022 - 08:36
I looking to get training close to home
Submitted by iris on Mon, 10/17/2022 - 09:03
The PLC Certificate programs are offered entirely by distance education, you never physically attend the college.
Submitted by Michael Ohene-Adu (not verified) on Sat, 02/25/2023 - 02:44
Please kindly send by details to start PLC ONLINE TRAINING. Thanks
Submitted by iris on Mon, 02/27/2023 - 09:34
The PLC Technician Certificate program has open enrollment, with no predetermined time limits. That means you can start at your convenience and finish at your own pace. You can register online at https://www.plctechnician.com/how-to-register or call toll-free, 1-888-553-5333, and speak to a Program Consultant.