An Overview of the Allen-Bradley Family of PLCs
After a general introduction to the Allen-Bradley brand name for those who are new to the field of industrial automation and control, we will take a brief look back at the founding of the Allen-Bradley company and how they have been a going concern since the early 1900s.  We will move on to examine some of the significant contributions the company has made in the development of Programmable Logic Controllers (PLCs) dating as far back as the 1970s and how their subsequent contributions to PLC networking, plant floor inter-connectivity as well as PLC programming software development in the 80s and 90s has played a significant role in bringing about the wide-scale adoption of Allen Bradley PLC products.  We will look at how the company has strived to maintain an active cutting-edge presence in the market since the formative years of PLC technology in the 1970s and lastly, we will provide a general overview of some of the PLCs being supported by Allen Bradley and Rockwell Automation today.
Who are "Allen-Bradley from Rockwell Automation"  
In addition to making a variety of durable and reliable programmable logic controllers, the globally recognized "Allen-Bradley" brand name (from Rockwell Automation) is widely known in North America for their production of quality HMI (human-machine interface) equipment, sensors, drives, drive motors, as well as a variety of peripheral devices used for safety and the monitoring of industrial manufacturing applications. Allen-Bradley has produced PLCs and related digital industrial control equipment for over 50 years. The company was acquired by Rockwell International in 1985 and has positioned themselves as one of the global leaders in the field, providing industrial automation solutions to a growing number of manufacturers worldwide. In today's world, where automation plays a key role in a wide range of manufacturing processes, Programmable Logic Controllers or PLCs have become a relatively inexpensive, and reliable means of providing industrial control in varying conditions, especially when compared to the hardwired relay systems they were designed to replace in the early 1970s.  Large scale adoption of this technology revolutionized the field of industrial control by providing a digital control solution that can be repurposed and is rugged enough to survive a variety of harsh industrial environments.  With several brands currently on the market, Allen Bradley PLCs have developed a long-standing reputation as an industry leader over the years by not only keeping abreast of advancements in related technologies, but by also taking an active role in the development and incorporation of such new technologies for use in a wide range of industrial control applications.  In addition to hardware development, the company continues to be actively involved in the development of emerging PLC software, as well as PLC communications and networking. Their spirit of innovation combined with a concerted effort to remain at the cutting edge of emerging automation technology, continues to make them the internationally recognized brand name that they are today and will be for the foreseeable future. 
A Brief History of the Allen-Bradley Brand 
It all began with the Compression Rheostat Company founded in 1904 by Stanton Allen and Lynde Bradley.   The firm's early success was attributed to the patent and subsequent production of a carbon disc compression-type motor controller. Their ground-breaking device originally appeared on exhibit at the 1904 St. Lois World's Fair.  The device was primarily used for crane motor control during the early history of the company.  After only 6 years of operation, the company underwent a name change and in 1910, the globally recognized "Allen-Bradley" brand name was born. The company continued to meet with moderate success as their products were integral to electric motor controls as well as applications relating to the development and widescale adoption of radio at a time in history when these areas of development and implementation flourished.  The company's fortunes continued to improve when many years later, in 1965, they participated in an open challenge, from General Motors to develop a new type of standard machine controller (SMC) capable of being easily repurposed in order to meet the changing control needs of new car production lines. GM realized it was too costly and time consuming to have to rewire relay control elements whenever a product line change was required and identified the need for such flexibility for future control systems. As it turns out, another team lead by Richard Morely from Bedford and Associates won the contract and was credited with developing the first such SMC type controller, the "Modicon 084" (Modular Digital Controller).  This revolutionary device was adopted and deployed by General Motors in 1969.  Further details regarding the early development of PLCs can be found in our previous article on The Evolution of PLCs.
While it is true that Allen-Bradley did not get the General Motors contract, they did recognize the significance of the development of the "Modicon 084" controller and subsequently moved to purchase "Information Instruments Inc." with the intention of continuing their own digital controller development project.  In 1971 Allen-Bradley came out with their first version of a stand-alone "PLC". Allen-Bradley have been making significant contributions to the field of automation and industrial controls ever since. They have continued with their involvement in the standardization and adoption of PLCs and related equipment.  They have made efforts over the past 50 years to highlight the PLC as the dominant form of industrial control system to meet the needs of automated manufacturing.
What contributions have helped spread Allen-Bradley brand recognition
While quality, price point, and versatility are all factors in maintaining brand name recognition, it can be argued that a demonstrated spirit of innovation and an ability to remain at the forefront of emerging technologies has been an identifiable determining factor for Allen-Bradley PLC brand recognition.  Allen-Bradley cemented their place as one of the dominant brand leaders in the field of automation and industrial controls with the development of the PLC5 family, and subsequently the SLC500 series, of programmable logic controllers.  During the 20-year period from 1977 to 1997, in addition to developing two widely adopted families of PLCs, the company become intimately involved in the development of early plant floor control technology such as Allen-Bradley's proprietary "Data Highway" in 1979, and "Data Highway Plus" in 1980. This plant floor networking bus technology could be used to connect PLCs, PCs, HMIs (Human Machine Interface), as well as remote I/O (input/output connections). These advances served to distinguish Allen-Bradley from several early competitors during the formative years of PLC technology's adoption. These contributions lead to the moderate success of the early Allen-Bradley brand PLCs that were among the first to utilize the Intel 8080 processor followed by the AMD processor in these early PLCs.  (PLC2 and PLC3 respectively).  One year after the Rockwell International acquisition in 1985, Allen-Bradley delivered what could be considered their breakthrough PLC intended for the commercial market with the widely adopted PLC5 platform.  The company provided its own proprietary programming software that eventually became RSLogix5 to be used with their PLC5 controller.  
Striking while the iron was hot, the company built upon the success of their PLC5 platform when, in 1991, they introduced the first "Small Logic Controller" (the first in a new SLC500 series).  This new integrated version of PLC was developed in response to industry feedback and was smaller and more affordable than the PLC5 platform and it came in a stand-alone package. The new series of controller employed RSLogix500 software for programming and utilized a slightly reduced basic instruction set.  These improvements were well received by the industry contributing to an increase in company goodwill and visibility.  Responsiveness to feedback would be a characteristic that would help to establish the foundations of the brand name recognition enjoyed by the company today. With each of the subsequent five iterations of the SLC500, (SLC5/01 through SLC5/05) a concerted effort to provide increased processing power, expanded I/O capabilities, as well as increased memory capacity was made, all while the company continued to incorporate innovative concepts and emerging technologies to expand the versatility and utility of PLCs in general for the ever-increasing array of industrial manufacturing and process control applications being automated. The SLC5/01 controller introduced the first Allen-Bradley rack configuration of PLC.  The system was modular providing increased versatility.  The power supply and CPU were separate from the I/O modules and were slotted into a rack.  The SLC5/02 release added Allen-Bradley's proprietary Data Highway for serial communications, and was also one of the first PLCs to support indexed addressing (file based). The next round of innovations came as the SLC5/03 allowed for the online editing of programs, yet another feedback driven modification furthering Allen-Bradley's reputation for being responsive to industry needs. In addition, a variety of program features such as an internal clock function, alarms, and interrupts were also added with this release. Application specific I/O types were now being provided as requested during this period of time as well.  The SLC5/04 employed faster serial communications by way of Data Highway Plus technology and finally, the last iteration in this PLC series, the SLC505 incorporated Ethernet making a vast improvement in communications capabilities and increasing a PLCs suitability for real time control by providing data transmission speeds of up to 100 Mbps for the latest release of this version. It is worth noting that the SLC5/05 controller is the only member of the SLC500 series that is still supported by Allen-Bradley.  It is still widely used throughout North American industry as its capabilities reached a level sufficient for a significant number of automated manufacturing processes.  If it isn't broken, don't fix it.  Many applications only require this level of sophistication to automate, no need to incur the cost of replacing them with newer High-end PLCs.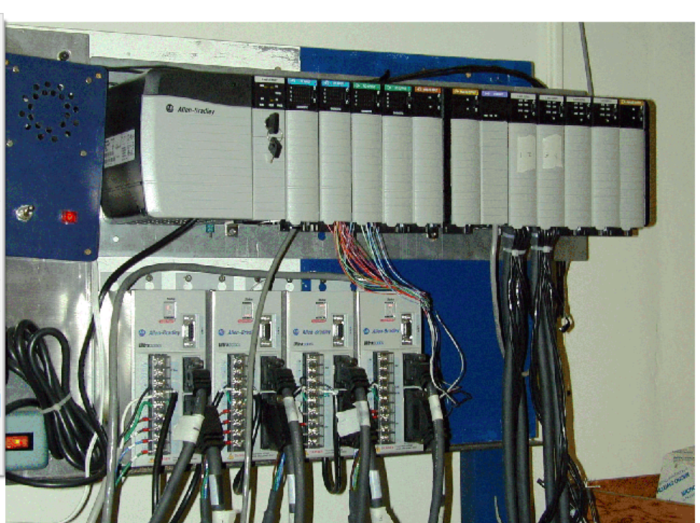 Allen-Bradley PLC Products Currently In Use
As outlined above, Allen-Bradley has built a reputation for being an innovator and industry leader as well as an early adopter of emerging technologies. They have continued their long-standing history of involvement in the development of automated control systems and today strive to provide a comprehensive suite of controllers suitable for any specialized applications big or small at cost effective prices.  The company currently provides three basic "Logix" platform families of controllers, MicroLogix PLCs, ControlLogix PLCs and CompactLogix PLCs.
The MicroLogix PLC family, was first introduced in 1994, to provide a smaller, cheaper PLC with most of the functionality offered by the SLC500 series.  The family uses the same RSLogix500 software for programming with limited configurable I/O. The advent of this family of PLCs was brought on by rising competition in the market, and in usual fashion, Allen-Bradley responded to market pressure by acting on customer and industry feedback.  There have been many iterations of this small scale, inexpensive Entry-level to Mid-range PLC beginning with the MicroLogix 1000, followed by the 1100, the 1200 and then the 1500.  The latest release in the family was the MicroLogix 1400 which incorporated ethernet, embedded analog inputs, and high-speed counters   This family of PLCs remain widely in use and are still supported by Allen-Bradley.
The next evolution of PLCs arrived with the ControlLogix PLC family, first introduced in 1997 and widely available by 1999.  These new mid-range priced controllers provided, high-end performance and offered increased processing speed, 32 bit I/O and were the first PLCs to use a Tag Based Addressing system, a significant improvement on the file-based addressing system used with the SLC500 series. In addition to providing more addressable I/O, the 32-bit system expanded registers as well as increased timer and counter ranges. It offered increased memory capacity, as well as faster processing speeds and used the new RSLogix5000 programming software. The most popular offering in this class of controller is the ControlLogix5580 which provided processing speeds many times faster than previous controllers (up to 1 Gbps), and supported ethernet, DH+, DeviceNet, and ControlNet making them also suitable for high data logging applications.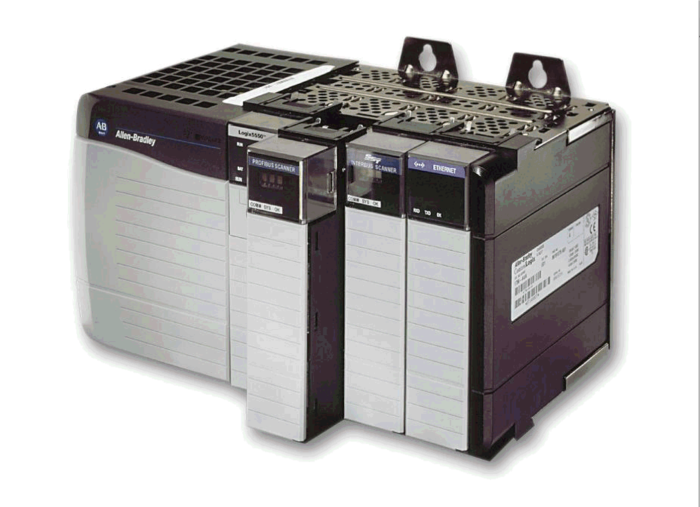 The CompactLogix PLC family are the latest PLCs produced by Allen-Bradley the first of which was developed in 2006. The family provides High-end performance with Mid-range pricing and was developed in response to a need for a more cost-effective version of PLC (an ongoing and ever-present design consideration for every single product iteration). This family of PLCs comes in two variants for added flexibility.  The first is a self-contained unit with integrated digital and analog I/O.  The second variant is modular and supports an SD slot, has an embedded USB port and provides communications speeds of up to 1 Gbps, and memory capacity of up to 10 MB while enjoying all the communications benefits available from the ControlLogix platform.
Summary
Allen-Bradley enjoys wide scale brand name recognition by providing cost effective, quality products, suited to a wide range of applications, In addition to these more obvious key success markers, the attribute that has provided the most impact in terms of cementing their brand name in the marketplace is arguably Allen-Bradley's dedication to remaining at or near the front edge of emerging related technologies, while staying continuously responsive to industry feedback.  Having had the benefit of being involved at the ground floor of PLC technology development and subsequently remaining actively involved in shaping the direction the technology is taking for over 50 years would naturally lead to wide scale adoption of your products as long as you deliver on flexibility, cost-efficiency, and reliability as evidenced by the success of the Allen-Bradley product line.
Are you interested in pursuing a career as a PLC Technician? For more information about careers or our PLC Technician programs contact a Program Consultant toll-free at 1-888-553-5333 and speak with one of our Program Consultants.
Source Article/Material Links:
The Evolution of PLCS | PLC Technician
History of Allen Bradley PLC - The Automization
The History of the SLC500 - Automation Networks (automation-networks.com)
MicroLogix Programmable Controllers Selection Guide (rs-online.com)
1756-SG001A-EN-P (plccompare.com)
An Introduction to Allen-Bradley PLC | Rockwell Automation - RealPars
PLC Programmable Controllers | Allen-Bradley (rockwellautomation.com)

 
Comments
Submitted by Glenn Zapien (not verified) on Mon, 06/19/2023 - 18:16
Hello, I would like basic information regarding this program and mainly cost and accreditation. Thank you
Submitted by iris on Tue, 06/20/2023 - 08:26
The total cost of the PLC Technician Certificate Program is $1700. There are two payment options.
Option 1 - Full Registration: $1700
Students register and pay for the complete program at initial registration.
Option 2 - Pay-As-You-Learn Registration
Initial registration is $440 (includes all learning materials, laboratory simulation software and access to the Module 1 exam) and registration for each of the remaining 18 modules is $70/module. Students may register for one or more modules at any time.
Our PLC Technician Certificate program is credit-bearing. George Brown College is a fully-accredited post-secondary institution operating under the authority of the Ministry of Colleges and Universities in the Province of Ontario. The College received its Charter in 1967 and operates three campuses in Toronto, Canada with over 15,000 full-time and 64,000 continuing education students. All certificates, diplomas, and degrees conferred by George Brown College are done so under the power vested in its Board of Governors through the Government of Ontario. George Brown College is a member of the Colleges and Institutes Canada (CIC) which is Canada's higher education sector leading organization consisting of over 200 post-secondary institutions.